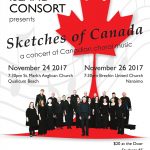 A concert of Canadian choral music for the 150th anniversary of Confederation.
7:30pm November 24th – St. Mark's Anglican Church, Qualicum Beach
7:30pm November 26th – Brechin United Church, Nanaimo
It's the year of Canada 150 celebration! This vast country has a wonderful variety of histories, landscapes and characteristics – and the Island Consort, directed by Bruce Farquharson, will celebrate what it is to be Canadian with a musical pastiche of songs by Canadian composers.
The program, "Sketches of Canada" … Read the rest