Nanaimo's Classical Chamber Choir
"…to perform choral music and to engage audiences in the enjoyment of choral repertoire.."
MUSIC DIRECTOR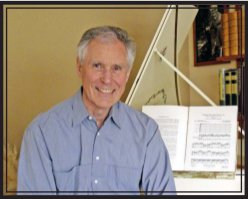 ---
Bruce Farquharson has been involved in Nanaimo's music scene since 1977. Formerly director of the Nanaimo Tidesman Barbershop Chorus, A Capella Plus, Nanaimo Concert Band and a founding member of the Nanaimo Chamber Orchestra, in 2007 Farquharson started up the Island Consort chamber choir with an emphasis on excellence and Early Music.
Read more about Bruce.
May 7th 2022, 7:30 pm at St. Andrew's Presbyterian Church, Nanaimo May 9th 2022, 7:30 pm Knox United Church, Parksville "In the Spring a young man's fancy lightly turns to thoughts of love" (Locksley Hall, Tennyson). And here we are, the Island Consort, to celebrate Love and Spring in a program of poetry readings and song. It is an interesting exercise to partner a selection of poems with choral repertoire – each from a vast library of compositions – and we hope that you enjoy our choices. Admission is adults $20, students $5 and under 13, free at the door.  COVID19 Protocols: All attendees will be required to be masked throughout the performance. Vaccinations are appreciated. Any provincial health orders at time of performance will be respected
The Island Consort Chamber Choir is a 20-voice community chamber choir in Nanaimo, BC that first appeared in concert in late April 2007. Repertoire is performed mostly a cappella but with occasional keyboard or strings accompaniment.
The choir produces two programs per year in Nanaimo, typically in late November and in mid-April. Past performances have also been in the mid-Island communities of Qualicum Beach, Parksville, Chemainus, Ladysmith and Gabriola Island. Programming retains the emphasis on Early Music (Byrd, Tallis, Weelkes, Palestrina, Monteverdi, Bach, etc.) but also expands to include Classical, Romantic and 20th Century/contemporary works (Schubert, Pearsall, Rheinberger, Kodaly, Tormis, Whitacre, etc.). The choir entered the National Choral Competition for the first time in the spring of 2013. Island Consort has performed three times at the Port Theatre – with the Nanaimo Chamber Orchestra, with the Vancouver-based professional dance ensemble, "Dancers Dancing", providing on-stage vocal accompaniment, and with the Vancouver Island Symphony's presentation of Mozart's Requiem.
More information about past music selection can be found on our Past Concerts page.
I was so moved and lifted by the harmonies of all your lovely voices...
"We are very lucky to have you here in our community!"
There is no where else in Nanaimo that people can come to hear this kind of wonderful choral music
a 'truly magical' evening