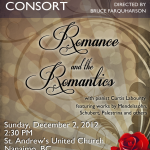 Romance and the Romantics
Sunday, December 2nd, 2012
2:30 PM to 4:30 PM
St. Andrew's United Church – Nanaimo
311 Fitzwilliam Street

$15 at the door
As December arrives so does a wonderful program of classical a cappella choral music presented by The Island Consort chamber choir. Directed by Bruce Farquharson, the choir will perform repertoire that is quintessentially "romantic" in the broadest sense of the word, with 5 selections accompanied by pianist, Curtis Labounty.
The program begins with three Early Music works; a pellucid "Ave Maria" by Jean Mouton from circa 1500, Monteverdi's "Ecco Mormorar l'Onde" – a love poem, and Palestrina's Missa Brevis, "Aeterna Christi Munera".
Music of the Romantic Period is featured with Mendelssohn's "Hear My Prayer" (soloist, Skye Donald), Bizet's "Agnus Dei", and a set of 3 Schubert songs; "Schicksalslenker", "Der Tanz" and "Standchen" (male choir plus soloist, Sharon Sinclair).
This leads to "Going Home", based on Dvorak's 9th Symphony, Eleanor Daly's "Ubi Caritas" for women's choir, Lindberg's "Shall I Compare Thee", and a song in Russian, "Nesnakomka" – the mystery woman.
The program finishes with two songs that lead to the Christmas season; Sandstrom's lush arrangement of "Lo, How a Rose", and Pearsall's setting of "In Dulci Jubilo".
Ave Maria Jean Mouton (~1475-1522)
Ecco Mormorar l'Onde Claudio Monteverdi (1567-1643)
Missa "Aeterna Christi Munera" Giovanni Palestrina (1525-1594)
Ubi Caritas Eleanor Daley (1955- )
Hear My Prayer* solo, Skye Donald Felix Mendelssohn (1809-1847)
Agnus Dei Georges Bizet (1838-1875)
==== Intermission ====
Ständchen* solo, Sharon Sinclair Franz Schubert (1789-1828)
Des Tages Weihe * solo, David Brown
Der Tanz*
Going Home* Antonin Dvorak (1841-1904)
Nesnakomka Yuri Falik (1936-2009)
Shall I Compare Thee . . . Nils Lindberg (1933 – )
Lo, How a Rose M. Praetorius/ arr. Jan Sandstrom (1954- )
In Dulci Jubilo Robert Pearsall (1795-1856)
* Piano accompaniment, Curtis Labounty
Trackback from your site.