… of Water and the Cosmos (Parksville)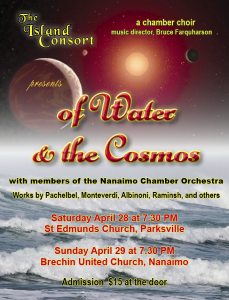 Saturday, April 28th, 2012
7:30 PM to 9:30 PM
St Anne's St Edmund's Anglican Church – Parksville
407 Wembley Road
$15 at the door

Here is a concert that will take the audience to many places, emotionally and intellectually. The Island Consort, directed by Bruce Farquharson, has expanded to 21 singers – and, with that, is singing some very rich arrangements for up to 8 parts and for double choir. This program includes some early music but presents a significant portion of late 20th C and 21st C material. On the program are works by Pachelbel and Rheinberger for double choir, 8-part renditions of Albinoni's "Adagio" and Paul Mealor's "Locus Iste", and 4 pieces relating to First Nations culture. Players from the Nanaimo Chamber Orchestra will accompany the choir on 3 works; Monteverdi's "Beatus Vir", Albinoni's "Adagio" and Raminsh's "The Great Sea". Water presents the finishing touch with 3 pieces; Full Fathom Five, Sea Fever and Deep River. Admission is at the door.
Full Program:
What If I Never Speed – John Dowland (1563-1626)
Magnificat – Charles Theodore Pachelbel (1690-1750)**
Mass in Eb Major: Kyrie – Joseph Gabriel Rheinberger (1839-1901)
Locus Iste – Paul Mealor (1975-)
Salmo 150 – Ernani Aguiar (1949-)
Beatus Vir (Psalm 112) – Claudio Monteverdi (1567-1643)*
Beatitudes: Albinioni's Adagio – arranged by John Cameron (1944-)*
Full Fathom Five – Charles Wood (1866-1926)
Sea Fever – Jonathan Quick
Deep River – arranged by Paul Ayres
Salish Song (from "Six Canadian Folk Songs")– arranged by Derek Healey (1936-)
Earth Teach Me – Rupert Lang (1948-)
Nootka Paddle Song (from "Northwest Triliogy") – arranged by Imant Raminsh (1943-)
The Great Sea – Imant Raminsh (1943-)*
*with the strings of the Nanaimo Chamber Orchestra and Peter Orme (organ)
**with Peter Orme (organ)
Trackback from your site.